So, I have FINALLY reached 100 Followers. It has taken FOREVER!
But, I have finally reached it!
All of this time I have spent searching the internet for sponsers, and homework, and everything else possible, I have accumulated some Paypal Cash thanks to Swagbucks!!
Giveaway of $50.00 Paypal Cash!
That's right, my searching is going to come in handy, and one lucky reader is going to win $50 Cash! So, a BIG thank you to swagbucks for giving me all of their swagbucks to redeem for Paypal Cash!
Mandatory Entry: You Must Follow me via GFC!
Grab my Button and put it on the Main page of your blog (Must leave blog link, and where I can find it)
Blog about my blog reaching 100+ Followers, and link it to this post and
use the button below this post on the top of the blog post YOU write.
make sure you leave a link to the post in your comment.
Must be an active blog!
Tweet this Giveaway using the Link below (Make sure you leave the Tweet Link in the comment
)
(1 time an hour, limit 5 times a day)
Let's Celebrate @BreenaElizabeth getting 100 Followers! Join me and Enter to win $50 Paypal Cash (Tiny Link)
Put this giveaway on a giveaway linky (make sure you tell me where I can find it)
Post this Giveaway to your Facebook Wall (up to 5 times a day)
(2 entries each time you post, 2 comments)
Comment on a NON giveaway post (Limit 5)
(1 entry for each, 1 comment)
(10 entries, 10 comments)
Put this Button Below on your blog on your main page
(Use the button Below to post on your blog post about this giveaway too.)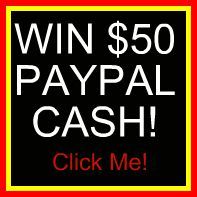 GIVEAWAY ENDS ON OCTOBER 29th, 2010 AT 11:59AM EST. CHECK YOUR EMAIL AT 12:30PM on OCTOBER 29th TO SEE IF YOU HAVE WON!
OPEN TO ALL CURRENT AND NEW PUBLIC FOLLOWERS OF THIS BLOG, PRIZE WILL BE AWARDED WITHIN 3 DAYS OF GIVEAWAY END. WINNER WILL HAVE 24 HOURS TO RESPOND TO WINNER NOTIFICATION EMAIL. IF NO RESPONSE, THAN A NEW WINNER WILL BE CHOSEN. PRIZE IS PROVIDED BY ME, WHICH WAS EARNED BY SWAGBUCKS, NO EMPLOYMENT MONEY WAS USED FOR THIS PRIZE. IF YOU HAVE ANY COMMENTS OR ANY QUESTIONS PLEASE EMAIL ME AT jakenmattsmom [at] gmail [dot] com