Hello! and Welcome to Follow Friday! Thank you for stopping by!
Here are the Follow Friday I am participating in this week: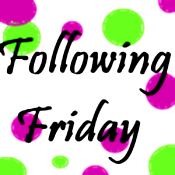 My Fawk you this week is to my husband....
Fawk you for thinking your right, when your most certainly wrong! Fawk you for the ungreatful attitude you had when I washed your work clothes.
Don't worry, If you follow me, I will follow you back, I do my follow backs at night on Fridays because my during the day is so hectic. But I always do follow and comment back! Please check out my giveaways that are current while your here!
HAPPY FRIDAY!