I am the featured blogger this week! :)
Today is Sunday! Which means The Sunday Social Network Exchange over at Frugality is Free!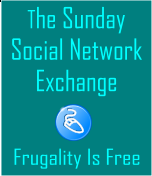 You can click the "like" button on the sidebar for my facebook page, my twitter ID is @BreenaElizabeth and This is my blog! :)
So Welcome to the Social Network Exchange Sunday! Lets go!