Have you ever heard of the Cloth Diaper Store,
Thanks Mama
? If you have, great! If not, well you will now! Thanks Mama is an online cloth diaper retailer with large selections of the great modern cloth! As I am sure you know if you have been a follower of mine for a while, I
guest blog
once a month for them on the Thanks Mama Blog.
Thank you to Thanks Mama for providing me with a Grovia All in One Cloth Diaper for this review!
Matthew is an active, 9 ½ month old boy. He crawls, rolls, stands, sits, and even falls, just like any other baby. I wanted to review the Grovia AIO because, well, I have read some great reviews!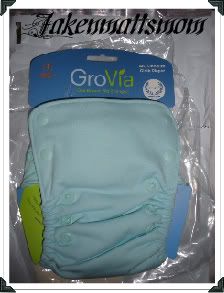 I had the option of color and I chose Ice, it's a more boyish color. One thing that I do not like is that currently, the Grovia AIO only comes in 3 colors, one boyish, one girlish, and one neutral. However, their colors are different from any other cloth diaper company around.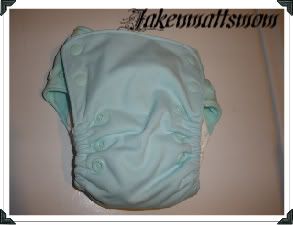 The material on this diaper is super soft and non-irritating to my son's skin. You know how sometimes, depending on the brand of diaper, it will leave the red mark from the elastic being too tight? Well, we didn't have a problem with that while he was wearing it.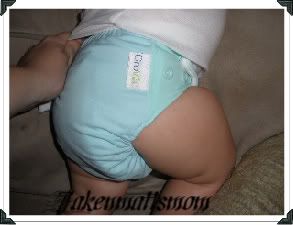 The side tabs that the front snaps on to, is also a lot stretchier than other diapers, which is great for his crawling. I am proud to say that we had NO leaks when using this Grovia AIO. The snaps also hold up strong and stay snapped, until you unsnap them. Matthew could not pull these snaps apart. Trust me, I let him try to!
The AIO piece is sewn directly in, but there is(see the green arrow in the Picture below)an additional snap in soaker for extra absorbency. Since he is a heavy wetter at night, we could never use this as an overnight diaper. I would not recommend this to a friend who has a heavy wetter for night time use. But daytime, when there is less time between changes it works great for us.
The Grovia AIO is a OS which means its rise is for an "average" baby. So, on Matthew it seems a little short, but it still works awesome.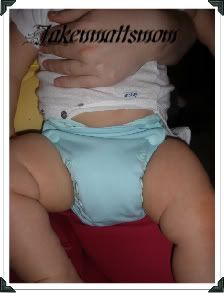 The side snapping is also kind of awkward, especially if your baby rolls or tries to roll over during changes. You need two hands to snap the snaps, which prevents you from holding the baby to keep him/her from rolling.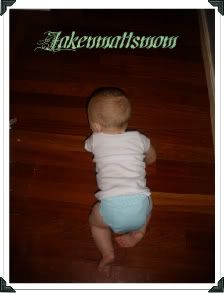 So, after reading my thoughts, I will leave the decision up to you. Do you want a Grovia All-in-one diaper for your baby? Do you want a Grovia Diaper for a Mother to be? Do you just want a Grovia Diaper?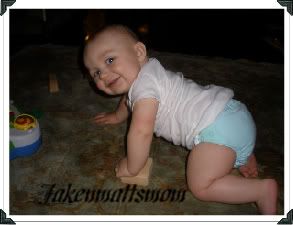 Or, Will you just crawl away???
Well, You could buy it here from the
Thanks Mama Store
for $21.95
OR
Thanks Mama has generously offered one of my readers the chance to have a Grovia All in one in a color of their choice of their own!
Mandatory Entry: Visit Thanks Mama's Store, and tell me of another item they sell (besides anything Grovia) that you like!
Extra Entries:
*Follow me by using Google Friend Connect (GFC) (2 Entries, 2 Comments)
*Must be a public follower
*Follow the Thanks Mama Blog using Google Friend Connect (2 Entries. 2 Comments)
BONUS ENTRY TO MAKE 3 FOR THIS ONE IF YOU POST A COMMENT ON MY OCTOBER GUEST POST! (HINT: MATTHEWS PICTURES ARE ON IT!)
*Must be a public follower
Become an Email Subscriber (on sidebar)(5 Entries, 5 Comments)
Like Thanks Mama on Facebook- Leave some comment Love!(3 Entries, 3 Comments)
Like US on Facebook-Leave some comment Love!(3 Entries, 3 Comments)
Like Grovia on Facebook-Leave some comment Love!(2 Entries, 2 Comments)
Follow Thanks Mama on Twitter(3 Entries, 3 Comments)
Follow US on Twitter(3 Entries, 3 Comments)
Follow Grovia on Twitter(2 Entries, 2 Comments)
Tweet this Giveaway (MUST USE TWEET BELOW) (2 Entries, 2 Comments)
(3 Times per day Maximum, atleast 1 hour apart)
Enter to #win a @GroviaDiaper from @Thanksmama & @BreenaElizabeth #giveaway ends 11/30 (insert Tiny Link)
Blog about this Giveaway with a link to THIS post and to Thanks Mama's Store(5 Entries, 5 Comments)
Sign up for Swagbucks using THIS LINK <--Here (Must not be previously signed up)(6 Entries, 6 Comments)
Rules:
Please make sure you comment your email address if it is not public on your profile. You cant win if I cant get in touch with you!
If your entry is not complete or is not done right…(i.e. the tweet, or signing up for swagbucks through a different link, ect.) it does not count and will be deleted
All entries will be checked. Please leave your twitter name/Facebook name/blog URL/ect so I can verify.
This Grovia Giveaway Ends at
11:59AM EST on November 30th, 2010
. Winner will be picked via Random.org. Winner has 48 hours to respond to winners notification email, or another winner will be chosen.
Disclaimer: I have been provided with the item in review for the purposes of this review. All opinions are 100% my own. If you would like to read more about my disclosure policy please scroll back up, and click the Disclosure Policy Tab. I would like to Thank, Thanks Mama for providing the review item and the giveaway item to the winner. :)