I absolutely LOVE Shutterfly. Their designs are magnificent, and elegant. They have designs for all occasions. Specifically, their Christmas collection is
one
two words…SIMPLY AMAZING! There are so many layouts, colors and designs to choose from. This is going to make it hard for us to choose our Christmas cards. I love designs that opt for multiple photos, but keep the elegance.
I always go for
Holiday photo cards
that are folded, so I can write on the inside. To me, it feels more personal than having the card just mass sent to everyone. That's not so personal. You want your card recipients to feel special and thought of during this holiday time.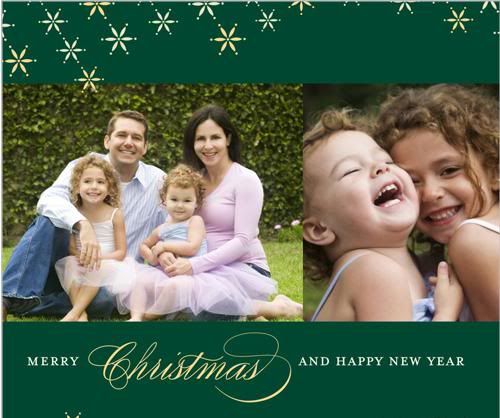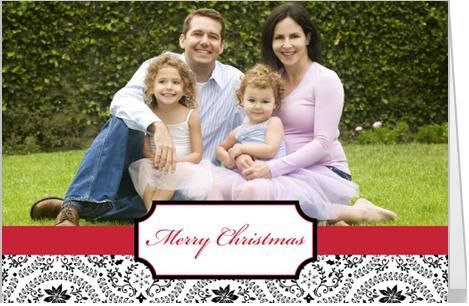 We recently had holiday/family photos done, and they came out
good
great! I want to incorporate those into whichever card we end up choosing. I found these two first, now one is a folded card, and the other is not. I had my husband say he liked the green one better. However, I can't take his vote because green is his favorite color, and if he had it his way, we would just use a piece of colored on construction paper as Christmas cards because they are not at the top of his list. (lol, probably not, but he wouldn't take the time and effort that I do to have Christmas cards.)
So, I personalized one that I liked just for an example here, and I think it's pretty good, but I am still going to play around with it more. There are so many colors, and templates, and designs to choose from, I am glad I started worrying about our
Christmas cards
early! lol.
While I am at it, I might just go look at their selection of
Christmas party invitations
! I would love to have a great well thought out, and planned christmas party this year!
Happy Holidays!
Disclaimer: This blog post is written by me, in 100% my opinion of Shutterfly's Christmas/Holiday Collection. I am writing my 100% opinion so I may recieve 50 Free Greeting cards for this holiday season. Are you a Blogger? If you are, would you like 50 Free Greeting cards from Shutterfly? If you answered yes to both, please
click here
for more details!