I recently had the chance to try
Dr. Bloom's Chewable Jewels
. I chose to review the amber twilight set which consisted of the round necklace and the bangle bracelet.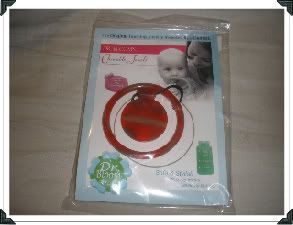 When I received them in the mail they were prettier than the photo gave it credit for. These were simply amazing, and their bright but dark color made them more intriguing to Matthew.
Matthew is a baby that puts everything in his mouth, and when I say everything, I mean EVERYTHING! That is why i thought that the teething necklaces would be a good thing for him. Matthew is always teething, as you can see from his bright red rosey cheeks in the photo below.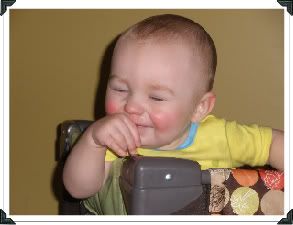 Some people have an opinion that the teething necklaces are gross and that people should not let their children chew on them, they have specifically been called "unsanitary" by one blogger. However, I find that these are actually easy to clean and you can clean them frequent enough to be able to keep them sanitary.
I think that these are a great idea, and i know that some children have actually started chewing on regular jewelry because their mother let's them chew on these, however this has NOT been the case with Matthew. He only chews on his special teething necklaces.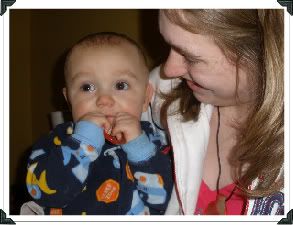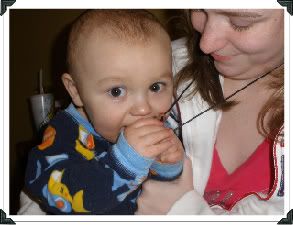 Dr. Bloom's chewable Jewels
has to be the best one out there for children, because even the cord is on is chewable, but if your little one bites actually through things, than I would suggest moving it to a different cord or string.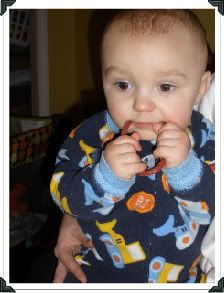 Matthew loves the bracelet in particular because I will let him hold it to chew on it, and with the necklace I won't. Right now at this exact moment I think that Matthew has actually hidden the bracelet under the couch just so he can have it whenever he wants!
Pretty soon, you will have a chance to win a
Dr. Bloom's Chewable Jewels
set of your very own in the color of your choice consisting of the bangle bracelet and the necklace!
Head on over to
Dr. Bloom's Facebook
and "like" them and theres your extra entries done! well some of them atleast!
Want to order before the holidays? Enjoy 15% off your order from Dr. Bloom's using coupon code "2010J"
Thanks for reading and have a great day!