Starting June 11th and Running until June 25th will be our "IT'S ALL ABOUT THE FLUFF EVENT!"
I am excited to bring you 14 days of Fluffy Giveaway Goodness!
I am still accepting Sponsors, if you know of anyone who would like to sponsor, yes, even WAHM's!
I can't tell you who's on the list, it's a surprise! If you want to get sneak peeks, and hints, make sure you follow us on Facebook!
ChunkyMonkeyBumz on Facebook
I have contacted alot of sponsors and have gotten a great response! This is one event you don't want to miss!
Want 5 Extra Entries into one of the Giveaways??
Post this event button below on your blog and then comment on THIS post when you do so, with your blog link, it has to be on your main page...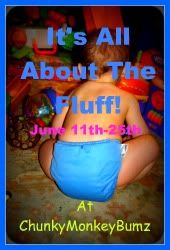 Post this on Facebook (click the webaddress bar on top and copy and paste it into the link option on your facebook and post. Then make sure you leave the URL here of where I can find it (just click the time when it was posted (wed at 8:45PM <- Example) and that will bring you to the screen where hjust that comment appears, then copy and poaste that URL into a comment on this post! (worth one extra entry per time posted, and you can post 2 times a day)
Tweet This Event and make sure you put a link to this post in the tweet (can be done 1 time a day) (only worth 1 extra entry per tweet)
Worth 3 Extra Entries, Become a GFC Follower BEFORE the event starts on 6/11/11
Thats It! Those will give you extra entries