So, Here is my post dedicated to Follow Back Fridays!
Take a break, relax, look around. While your here enter my giveaway, or read about my upcoming event!
Thanks for stopping by! here are the Friday Follows I participate in: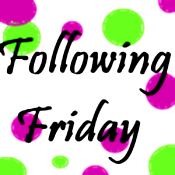 To Make it easier on me to follow back Please Link here up below after you follow! :) Thanks! and TGIF!