Kim at Rockin Green is such a sweetheart. If you ever have any questions about anything to do with Rockin Green, and laundry, she is always more than happy to help.
When I started cloth diapering, it was all a big whirlwind of confusion with do's and don'ts.
For example:
DO NOT use regular laundry detergent
DO NOT have a wet pail
DO a cold wash
DO a hot wash
And so on…
Everyone has their own way of washing their diapers. What YOU need to figure out is how, and with what you are going to wash with, and how you are going to store them.
I bought a variety of cloth diapers before I found ones that I actually liked. But, I was worried about all of the brands them having their own and different detergents for them.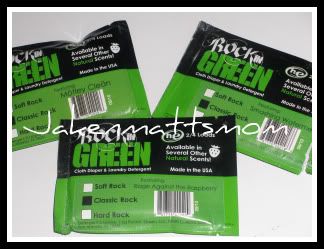 But, alas I found Rockin Green! Rockin Green is SAFE on all cloth diapers!! I was ecstatic! So, I started using the Rockin Green. Now, this is my favorite laundry detergent for everything!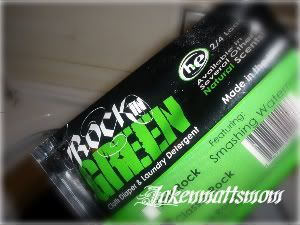 THE REVIEW:
I previously used Rockin Green in the past, and was excited to see the RNG message in my inbox when I had contacted about doing a Review and Giveaway on my blog. I was sent 3 samples to try.
1 rage against the raspberries
1 motley clean
1 smashing watermelons.
First I loaded my diapers into the washer, and added 1 scoop Rockin Green.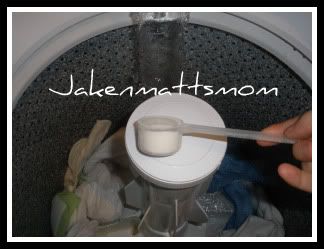 Here is a short video of my diapers in the washer, washing in Rockin Green…Just look at the clear water going in, and the yucky water coming to the top almost instantly as it starts!
For my diapers, I always wash on hot. I cannot wash on cold personally because to me, I don't feel they get clean enough. Even with that, sometimes there is detergent residue build up. So I like to do a Rockin Soak twice a week.
I wanted to test the Rockin Green on a definitely well used opponent. My bed sheet. My Bed gets peed on, spit up on, nose wiped on, and ect. With two kids, it happens…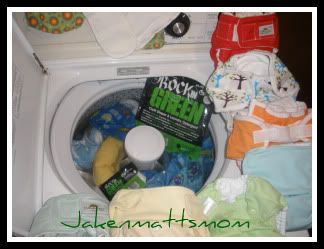 Here are the Rockin Soak instructions:
1. Fill your washer with hot water & 3 Tbsp of Rockin Green along with your diapers or clothing.
2. Let it soak for approximately 30-60 minutes, then wash as usual skipping the soap.
I washed my sheet first in the Normal ALL Free and Clear that I use, and then I did the Rockin Soak…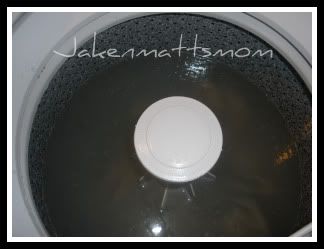 Just Look at this water!!! This was after 20 minutes! This made me a complete believer! I have now switched to Rockin Green for all our laundry.
Rockin Green offers:
DIFFERENT FORMULAS:
There is a formula for everyone! This depends on the hardness or softness of your water.
• Soft - this formula is designed for those that have sensitive little ones or soft water.
• Classic - this is the original formula, and is great for those with moderate hard water, or just those that are battling with stinkies. Comes in unscented and scented varieties.
• Hard - This formula is designed for the most troubling of water types.
And
SAFE INGREDIANTS:
Rockin' Green is made of safe, phosphate free ingredients which make it good for the planet and gentler on your little ones. Everything is made with love, and put to the test every single day on my own families' diapers and laundry. So you know that I expect only the best from everything that I send out the door.
Ingredients: sodium carbonate, sodium percarbonate, natural chelating agents, sodium sulfate, biodegradable surfactants, natural fragrance oils (if scented is chosen)
Please take great care to keep Rockin' Green away from pets and children.
You can BUY IT for $13.95
Or
You can WIN IT HERE!
Rockin Green has generously offered one of my lucky readers a 45/90 Bag of Rockin Green in a Scent of their choice!
Mandatory Entry:
You must follow me PUBLICLY via GFC AND you need to go to Rockin Green's website and tell me something you learned that IS NOT listed in this review.
Extra Entries:
Like
Rockin Green on Facebook
(You may have an additional +2 entries if you link my facebook page or blog URL in the comment)
Like
us on Facebook
(+2) (Use the "like" box on the sidebar, then go there and leave some comment love!)
Follow
me on Twitter
(+2)
Follow
Rockin Green on Twitter
Tweet Once daily, Copy and Paste below: (+2 for every tweet) Leave URL to tweet.
"Enter to #win @RockinGreen Detergent @BreenaElizabeth 's Blog http://jakenmattsmom.blogspot.com #giveaway ends 10/12"
Blog about this giveaway and link it back to this post and to Rockin Green (+6)
Grab My Button for your sidebar (+4) (Must be on Main page) (On sidebar)
Post this Giveaway to your facebook wall with the link to this post...(+3) May be done once daily. YOU Must mention "Lions and Tigers and Boys Oh My" You can do this by using the @ symbol and starting to type the name, it will appear in a drop down list, click it, and its tagged.
"I entered to win some Rockin Green, you should enter too!"
Giveaway Ends at 11:59PM on 10/12/2010. Winner will be picked via Random.org at that time. Winner will be emailed and will have 48 hours to respond. If no response, than winner will be repicked.
Opinions in this review are 100% my own. Samples were provided for this review. No other compensation was provided.