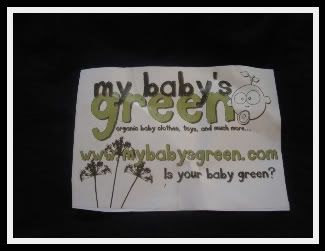 I was greatly honored to review a My Baby's Green Pocket Cloth Diaper!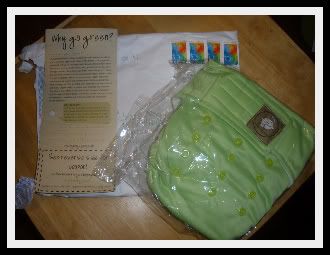 I have been cloth diapering for 7 months now. My stash is made up of mostly bumGenius diapers. Three quarters of it are 3.0 AIOs, a few 4.0 OS, and a few stragglers of other brands.
I wish I could get more cloth diapers right now, because I could use a few more like this one, but the DH says that I have enough diapers…hehe.
What I LOVE:
The generous sizing on this One Size diaper.
The insert has snaps for multi-sizing
The snap on the inside on the back of the diaper.
Snug elastics.

What I Dislike:
The laundry tabs do not always stay shut.

I will start with the DISLIKE list first…since its soooo short. The laundry tabs sometimes comes open, and the hook and loop will attach itself to another diaper, or to the front of its own diaper. But that is not a big problem for me.
Now, the LOVE it list. I Love the generous sizing. Even for my little chunky butt of a boy it fits him well. The insert on the inside has multi-sizing as well, which is really good for smaller babies… (I wish I had one of those! A small baby, both of my boys were huge when they were born!).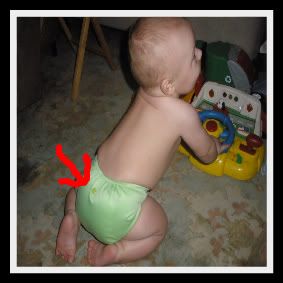 If you look at the back of the diaper is has a snap, and that is for perfect placement of the insert. The insert also has a special end with the snap, so the insert won't move around, and so it stays in place and doesn't bunch up which is great!
Matthew is a large baby for his age, he is the size of an 18-24 month old, when he is only 9 ½ months. The leg elastics on this diaper are great for little movers, and wigglers and crawlers. They are not too tight where they leave marks, but they are not too lose, that they let the mess or wetness out. Some of our BG's do not even compare to this diaper! This diaper is definitely great for my little mover.
However at night time, I needed to put an extra insert in it, because the 3 am wake up calls are not a great thing because he is soaking wet through his pj's and sheets. But, Matthew is a VERY heavy wetter at night time. The Hook and Loop is very strong for well, hook and loop that is.
Just Look at my little Baby Model!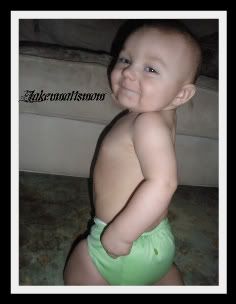 I chose to review the green diaper; however, this diaper comes in an array of pastels. Plus, I am keeping most of my diapers because I am bugging the DH for a girl in a few years.
After reading all these great things about this diaper, it makes you want it, right?
Well you can….
BUY IT
: at the
My Baby's Green Online Store
for $16.95
OR
WIN IT:
Tina from My Baby's Green has generously offered one of my lucky readers a My Baby's Green Pocket Diaper in a Color of their choice!
Mandatory Entry:
You MUST be a Follower of this blog via Google Friend Connect AND you must go to the
My Baby's Green website
and comment on an item IN THEIR STORE ON THEIR WEBPAGE, then come back here and comment that you did, and which item it was on. (Unless you tell me WHICH item it was on, then your entries do not count)
Extra Entries:
For Extra entries leave separate comments
Become a Public Follower of the
My Baby's Green Blog
(4 Entries, 4 comments) Must comment on a post saying you are following from The Boys Mama and tell me which post you commented on...
Follow Me on Networked Blogs(Link on sidebar) (4 Entries, 4 comments)
Follow
US on Facebook
(3 Entries, 3 comments)
Follow
US on Twitter
(3 Entries, 3 comments)
Follow
My Baby's Green on Twitter
(2 Entries, 2 comments)
Follow
My Baby's Green on Facebook
(2 Entries, 2 comments) Leave some comment love!
Leave a review for me on Alexa, The link in on the sidebar (8 Entries, 8 Comments)
Sign up for
Swagbucks using my referral link
ß
Click "referral link" for it (6 Entries, 6 comments)
Blog about this Giveaway with a link to this post AND to
My Baby's Green Store
(4 Entries, 4 comments)
Using the Tweet Below Tweet one time an hour (1 Entry for each tweet, 1 comment for each tweet)
Enter to win a @mybabysgreen Pocket Diaper at @BreenaElizabeth Blog
http://tiny.cc/jrqnb
ends 11/13 #giveaway #contest
Post on your facebook wall this link: Three times a day (2 Entries, 2 comments each time)
Enter another one of my current giveaways (2 entries, 2 comments for each giveaway entered)
Post a meaningful comment on another NON-Giveaway post (1 entry, 1 comment for each post up to 6)
Giveaway ends on November 13th, 2010 at 11:59PM EST. Winner will be chosen via Random.org and will have 48 hours to respond to winning notification email. If winner does not respond, than a new winner will be chosen, and have 48 hours to respond.
I was sent the product in review for the purposes of this review only. No other monetary compensation was provided. The opinions expressed are 100% my own.